Welcome to Nocturnia, where the monsters have their own nation states and humans are either slaves, or food, or both. Where even the flowers will suck your blood if you venture near. As Emma and Ryan search for a way home, they come to suspect they did not arrive in Nocturnia by accident. But if not, why are they here? Are their destinies somehow entwined with this nightmare world?

Availability: Trade Paperback (comes with free ebook copy) - Kindle - Nook
-
Signed Trade Paperback
(should be available end of March)
Rage, terror, and redemption: these are the building blocks of the concluding chapter of Repairman Jack: The Early Years, the prequel trilogy focusing on the formative years of Wilson's globally popular supernatural troubleshooter.
The strands of Jack's life, established in the first two books,
Cold City
and
Dark City
, are now woven into a complete pattern.
Centered the events leading to a terrible explosion in New York City in 1993, Fear City shows the final stages of young Jack becoming Repairman Jack. A dark story, full of crisscrossing plots and startling mayhem, with secret agents, terrorists, a freelance torturer, a secret society as old as human history, love, death, and a bleak triumph. Jack threads his way through this intricate maze, as people he loves are stripped away from him in a way that presages the later epic series of novels.
Pre-Order:
Amazon
-
B&N
LIFE CAME OUT OF AFRICA… But now it's death's turn...
It spreads like a plague but it's not a disease. Medical science is helpless against the deadly autoimmune reaction caused by the bite of the swarming African flies. Billions are dead, more are dying. Across the world, governments are falling, civilization is crumbling, and everywhere those still alive fear the death carried in the skies. Some say the flies are a freak mutation, others say they're man made, but as hope of beating them fades, most turn to the only comfort left and see the plague as God's will. He sent a deadly deluge the last time He was upset with mankind. This time He has darkened the sky with deadly flies. And perhaps that is true, for so many of the afflicted speak with their dying breaths of seeing God coming for them. But not everyone dies.
A very few seem immune. They call themselves mungus and preach acceptance of the plague, encouraging people to allow themselves to be bitten by "the flies of the Lord" so that they may join Him in the afterlife. Nigel, an investigative reporter, searches the apocalyptic landscape of plague-ravaged England in search of Bandora, a kidnapped African boy. On a quest for personal redemption as well as the truth, his search takes him away from the troubles he can no longer face at home, and into the world of the head mungu, a man who speaks truth in riddles and has no fear of the African flies.
A Necessary End is about apocalypse, about love, about the fragile bonds that hold marriages and civilizations together. But mostly it's about truth – how we find it, how we embrace or reject it, and how we must face the truths within ourselves.
Availability:
US
,
UK
,
N
ook
Signed:
Isher Shop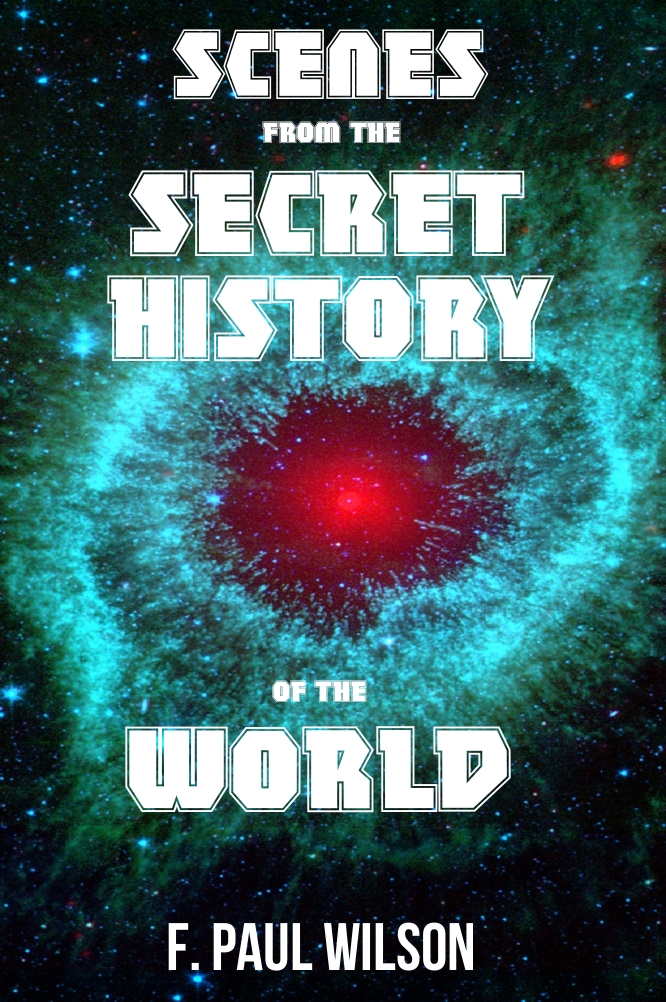 Running nearly 100,000 words,
SCENES FROM THE SECRET HISTORY OF THE WORLD
acts as a sampler and organizer of F. Paul Wilson's thirty-plus novels and various short stories that trace the events, the conspiracies, the human and non-human forces that have shaped civilization - a glimpse of the huge mosaic Wilson has assembled. In his novels and stories, F. Paul Wilson has spent over four decades chronicling a Secret History of human civilization – the events, the conspiracies, the human and non-human forces that have shaped its course. A history of the world that remains undiscovered, unexplored, and unknown to most of humanity. Some of this Secret History has been revealed in his Adversary Cycle, some in his Repairman Jack novels, and bits and pieces in other, seemingly unconnected works. Taken together, even these millions of words barely scratch the surface of what has been going on behind the scenes, hidden from the workaday world. Running nearly 100,000 words, SCENES FROM THE SECRET HISTORY OF THE WORLD acts as a sampler and organizer of the thirty plus novels and various short stories that form the huge mosaic Wilson has assembled. It includes unseen artwork and a new timeline available nowhere else.
Availability:
F

ree